Mission Statement
Breathing Space Yoga school is dedicated to providing the very best in yoga courses to the people we serve. Our mission is to help people Awaken the Extraordinary and become fully alive human beings. Through the transformational and healing nature of our yoga courses, our goal is to guide clients toward radiant well-being and emotional wholeness within a vibrant, caring community.
Breathing Space is committed to offering a naturally organic experience by operating with the needs of our planet in mind. We strive to sustain the beauty of the earth by recycling and selecting natural products--from our soaps to our yoga products. Massage linens are washed in natural laundry detergent and cleaning agents are entirely non-toxic. Everyone, including babies and those with allergies or environmental sensitivities, can breathe deeply, knowing that the studios in our yoga school are a natural sanctuary in which to practice yoga. We hope you will join us in one of our studios in Bedford, Clayton Park, Halifax, Sydney, Tantallon, Windsor, or Fredericton.
---
Breathing Space Team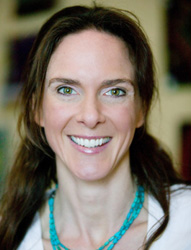 Founder Jenny Kierstead, BPE, BEd
E-RYT Yoga Teacher
Yoga Therapist
Ayurvedic Instructor
Qi Gong Instructor and Healer
Jenny is the founder of national award winning Breathing Space Yoga Studios and Yoga in Schools. A visionary in the yoga movement, Jenny received the prestigious Women of Excellence Award in 2009 and the RBC Women of Influence Award in 2013 for her Yoga in Schools initiative. A former Physical Education teacher, Jenny designed a Yoga Grade 11 course for the Nova Scotia Department of Education, the first ever yoga program implemented in Canadian public schools.
Through Thompson Publications Inc, Jenny designed yoga posters for both Elementary and Secondary levels as well as a Yoga for Autism Program, a Yoga for Special Needs Program and most recently the revolutionary Girl on Fire Empowerment Program for teen girls.
To support this successful school-based initiative, Jenny and Blair and their team run a highly reputed Yoga Teacher Training Program. Their latest evidence-based project, Mindfulness in the Classroom is changing the way teens relate to themselves and others.
As a dedicated student of spiritual wisdom and healing modalities, Jenny's teachings are rooted in over 10,000 hours of study with leading authorities, such as the legendary Shri K. Pattabhi Jois, Deepak Chopra and Michael Lee. Most recently Jenny acquired full certifications in Qi Gong and medical Qi Gong.
Always an innovator, Jenny is the Official Yoga Trainer for Olympic athletes in Atlantic Canada.
Beyond inspiring others to embrace the path of love and awareness, Jenny enjoys the adventure of life with her husband Blair and their two spirited daughters, Sophia and Isabella.
Testimonials
"No matter how many students are in the room, when Jenny makes eye contact with me, it is as if I am the only person in attendance. She has a very special gift."

Alison Macleod
"Wisdom and grace are the words that describe Jenny's approach to working with teachers. Many begin their journey as novice yogis and quickly become thoughtful practitioners who spread their joy and knowledge to their students. It is because of Jenny's gentle guidance and ongoing support for all ranges of participants that each blossoms as their own unique and beautiful flower."

Tiffany Bastin
New Brunswick Department of Education
"As an Olympic athlete, I'm always looking to improve my training and recovery and have found practicing yoga with Jenny to be a great benefit to my training over the past several years. Jenny is an inspiring yoga teacher and I'm proud to have her as part of my team."

Mark De Jonge- Olympic Medalist
---
Co-Founder Blair Abbass M.A., M.Ed., R.P.C
Blair is a gifted therapist and an award winning educator who has been in practice for the past 35 years. He has studied with renowned teachers, including William Glasser, Stephen Levine, and Dr. Jon Kabat-Zinn. Creator of the highly acclaimed CD 'Zen Living and Stress Reduction Program', Blair contributes to the Breathing Space Teacher Training Program, sharing his wisdom born from rich life experiences with a Cape Breton sense of humor. Blair's teachings have recently been compiled in his latest manual Mindfulness in the Classroom: opening doors to a new way of thinking. Not only an educator, Blair's dedication, business expertise and 'possibility attitude' continues to drive the Breathing Space vision into an ever expanding entity. Blair lives with his beloved wife Jenny and daughters Sophia and Isabella.
---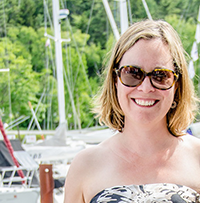 Director of Operations Marney Steeves
Marney Steeves brings over 15 years experience in customer service, project management and leadership to the Breathing Space Corporate team. Marney supports new corporate initiatives and supports the studios in maintaining integrity of service delivery and client experience. When not working with Breathing Space, she and her husband Ed can be found sailing the coastline on their sailboat and as a dedicated mother of two girls, Marney is often seen volunteering within her community.