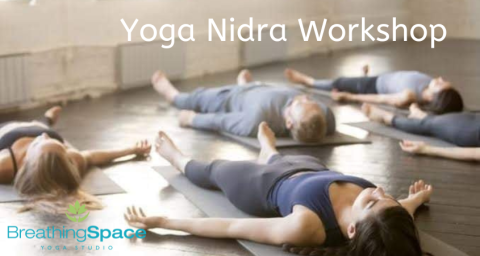 Workshop Date:
Sunday, February 4, 2018 -
Join Anicka on Sunday, February 4 for Yoga Nidra. 
Yoga Nidra is conscious sleep:  A state of consciousness between sleep and wakefulness.  Deep relaxation occurs on various levels of muscular, nervous, bioenergetic, psychic and mental bodies. 
Benefits of Yoga Nidra:  1) It clears up the unconscious, 2) It strengthens our connection with the earth as we enter a highly relaxed state where our earth energy is equal to our universal energy,  3)  Reduces tension and helps to balance our sympathetic and parasympathetic nervous system, 4) Awakens creativity,  5) Energy Healing: Yoga Nidra helps us to use and guide our own bioenergy to heal any physical ailment, or unexpressed emotion.  Our free flow of prana can be easily guided.
11-11:45am
$14+tax non-members
*Bonus complimentary class for members.  
Email to Pre-register: fredericton@breathingspaceyogastudio.ca