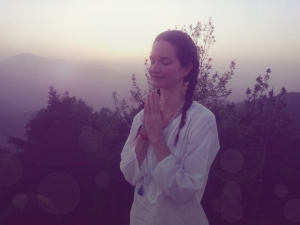 Anička Maria was born in Trinidad and raised between Trinidad and Tobago. Her Dosha is Vata-Pitta and meditation has always been a part of her life. Her parents would meditate with her as a child and she enjoyed growing up on the islands surrounded by rainforests filled with beautiful birds and waterfalls. She attended her first yoga class about 14 years ago and immediately knew there was something about it that made her feel more energized and alive.  Her practice deepened when she first visited India in 2005. It was on this trip that she was introduced to various Pranayama techniques, and through these techniques she began to explore, more and more, the breath, as a bridge to Samadhi.
Her exploration into consciousness continued right here in Fredericton, the city she's called home for the last 6 years. It was here that she developed a passion for painting sacred geometric mandalas. Wanting to share the joy that this brought to her own practice, she started an ethically produced clothing line that incorporates sacred geometry into a lot of the design work. Her intention is that this will work as a visual reminder for people to meditate more and encourage mindfulness. The clothing is produced in a fair trade way in India, helping to empower the women who sew it.
Her sustained curiosity about yogic techniques, as pathways to experiencing universal consciousness, brought her back to India earlier this year. She completed her training to become a Yoga and Meditation Teacher in the holy Indian city of Rishikesh, and is thrilled to be joining us as a teacher here at Breathing Space here in Fredericton!